Day 208: Aso to Osaka
I was up at 5:45 this morning as I had a long journey today. It was a little too early though and I ended up getting an even earlier train than I'd intended. At the station I met Silke and Sandra who were also getting this train. I slept most of the way to Kumamoto where we changed and took a train to Hakata. Silke and Sandra got off at Tosu as they were going to Nagasaki, the opposite way from which I came, so we said our goodbyes here and I continued on to Hakata. At Hakata I changed to a Kodama (echo) shinkansen headed towards Okayama and was surprised at how much slower it was than the Hikari (light) shinkansen. After saving a lot of time getting the early train from Aso I ended up later than if I'd have gotten the train I'd intended. I decided to visit Kurashiki, a small but very beautiful town near to Okayama. I got off the train and went to the hostel which was on a hill at the other side of town. I hadn't booked it but thought I would try my luck. When I arrived at the hostel there were beds free but the guy running it was an arse and very rude and inhospitable. It was also quite expensive so I decided to stay elsewhere, but not before I'd visited the town though. I walked through town and as it was quite small I decided I'd seen as much as I wanted to after a couple of hours. I went back to the hostel to get my bag and the guy seemed quite pissed off when he saw that was just going to leave, which was quite amusing.
I went to the train station and took a Hikari shinkansen to Osaka and then took the metro to Minami district where I was planning to stay at a capsule hotel. I couldn't find it at first so I asked a valet outside an expensive looking hotel. He was very friendly and helpful and looked it up for me in the Japanese equivalent of the Yellow Pages. When he couldn't find it he phoned them from the number in my guide book. As I walked off towards it I discovered that I was looking at the wrong map reference – watashi wa baka desu! (I'm an idiot). I checked in and put on my yukata (a bit like a kimono) that you can wear around the hotel. Everyone in the hotel was wearing the same brown coloured yukata, which made it look a little like a prison. The hotel was really nice though and had free internet, a games room and TV room, a cheap restaurant and a nice bathroom and sauna. My capsule was in room of maybe twenty others was roughly 2x1x1 m but was comfortable and had a TV and space for my things. It was about 2,500¥ a night, so cheaper than most hostels.
208.2. Capsule hotel in Osaka.
I went for a bath and then went for a walk around Minami at night. It was brightly lit with a lot of neon and a lot of people out. There was even a guy dressed as a tiger (though I think it was some WWF wrestler outfit) directing the traffic.
208.3. The neon streets of Minami Osaka and a tiger directing traffic.
Day 209: Osaka to Nara
Today I got the train to Nara, which was close so I was there by mid-morning. I walked to the hostel which was about 10 minutes from the station. The hostel was nice and the woman who ran it was very helpful and friendly. I rented a bike and went to find a post office so that I could use an ATM. Afterwards I went to find a Lawson's so that I could try again to get tickets for the Ghibli museum. I had now found out what the 'L-code' was. There were many Lawson's but when I went in I discovered that there were two different Loppi machines and I only knew how to work one. It took a couple of tries to find a Lawson's with the right machine, but when I did I finally got my ticket – with a little help from the shopkeeper to write my name in katakana. I then cycled through town and visited a pagoda by a lake and then visited a region with many temples on the east side of the town, including the huge Todai-ji.
209.2. The huge temple Todai-ji; Picnicking in the park can be dangerous in Nara.
209.3. Some shrines in Nara.
The sakura was in full bloom now in Kansai and everything was very beautiful. Like Miyajima, the place was full of semi-tame deer. I had my lunch in the park with deer nearby, but they didn't approach. I'd seen some crowding around people with food earlier. I cycled back through town and along a river with many cherry blossoms lining it. It was very picturesque and less touristy than the rest of town so I decided to go back there after sundown and see it when the lanterns are lit.
209.4. Sakura along the riverside path.
When I came back at night there were many people here for Hanami (flower watching parties). I took some photos and then headed back to the hostel where I had a beer with a German guy called Sven. He was working in Tokyo and had come to Nara to see the sakura.
209.5. Night-time Hanami (yozakura).
Day 210: Nara to Takayama
Today I went to Takayama. I had to change trains at Kyoto and again at Nagoya. The train ride from Nagoya to Takayama was really beautiful though and ran along a turquoise river that cut through the mountains. Takayama is one of the gateway towns to the Japanese Alps national park. In Takayama I had decided to stay in a minshuku, which is a traditional Japanese style inn. It is like a ryokan but cheaper and more basic. It was more expensive than a hostel but worth it I think for the experience. When I arrived I was too early to check in so I left my bag and went on the walks suggested in the map that I'd picked up previously at the tourist office. The first walk went uphill through a park and when the path rounded a corner, I could see across to the mountains in the distance. It was the first time I'd seen really snowy peaks since I left Nepal.
The second walk started off going through the grounds of many temples and shrines. None of them alone were particularly spectacular but together it made for a nice walk, which was made all the better for the relative lack of tourists. The walk ended up in a forested park with a few shrines within and the ruins of an old castle, though little remained. The park was almost deserted and it felt strange to be so isolated in the middle of a town.
210.2. Shrines around Takayama.
I came back to the minshuku at around 17:00 and checked in. My room was in the traditional Japanese style with a sliding door and a tatami mat. The bed was a futon on the floor which could be put into the cupboard in the day. I put on my yukata and went to the baths, which I had to myself, which was great.
210.3. The minshuku I stayed at in Takayama and my room.
Day 211: Takayama
Today was the day to feed the inner otaku. I took the bus to Shirakawa-go, which is the real Hinamizawa – setting for anime/manga series Higurashi no Naku Koro ni. Ogimachi is the main village of Shirakawa-go and it consists of many houses with sharply angled thatched roofs (to protect from snowfalls) known as gassho-zukuri (praying hands). The village is very beautiful in itself and as a UNESCO heritage site it attracts many tourists, whether Higurashi fans, or more likely, not. I walked through the village and took many photos and passed the Wada house, which is one of the largest gassho houses in the village and home to the head family. I then walked up to the viewpoint overlooking the village. The views from here were impressive and the setting for many scenes in the series.
211.1. Typical Gassho-zukuri style buildings in Shirakawa-go.
I walked back through the village and stopped for a bowl of ramen, which was nice but pretty steep at 800¥. In the afternoon I went to the Shirakawa Hachiman-jinja, which is the Furude shrine. Outside the shrine was a rack of prayer blocks where people write their wishes to the host spirit. This is quite common at Shinto shrines except here most of the blocks featured characters from Higurashi that people had drawn or stuck on, particularly Rika who is head of the shrine. I came back to Takayama soon after on the bus. It had been a good day even though the bus trip had been very expensive at 4,300¥. My comparison with Hinamizawa can be seen here.
211.2. The old suspension bridge over the river and the Hachiman-jinja in Shirakawa-go.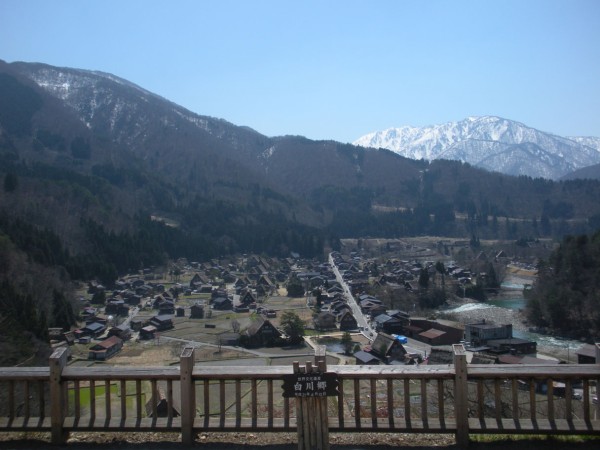 211.3. The viewpoint overlooking Shirakawa-go.
Day 212: Takayama to Matsumoto
Today I went to Matsumoto, another gateway town for the Japanese Alps, but on the other side of the mountains. The bus goes along the road through the mountains but since I had a rail pass I had to go back to Nagoya and then head back north to Matsumoto. When the trains arrive the announcer sings 'Matsumoto, Matsumoto, Matsumoto desu!' It is quite strange. The hostel was quite far from the station by a river on the east side of town.
In the afternoon I borrowed a bike for free from the hostel and cycled to Matsumoto-jo, a picturesque castle surrounded by a moat and with a park outside. It is the main sight of Matsumoto. I didn't go inside as it was a little expensive and instead went to a hill overlooking the town. It was pretty with many cherry blossoms and people were sitting about in the park having BBQs. There were good views over to the mountains, which were much closer than the ones I saw in Takayama.
212.2. Up the hill overlooking Matsumoto.
In the evening I got some food and a beer from the convenience store and played some cards with an Israeli girl and an English couple called Mike and Frances who were travelling in Japan for 7 weeks. They had no rail card so were taking a lot of night buses.
Day 213: Matsumoto
Today I went to a town nearby to the north called Hotaka. I cycled down to the train station and left the bike at the bike park for 100¥. Hotaka is closer to the mountains than Matsumoto and I'd hoped to go walking in them but they weren't really close enough. The town was quite industrial with many factories and such and was not particularly attractive. I decided to follow the river as it came from the mountain valley. It was tough going as there was no path and I had to ford a stream at one point. The river bank eventually thinned to the point that I could no longer follow it and so had to rejoin the road. I followed the road uphill through forests until I began to get tired and then I decided to head back.
213.1. On the walk near to the mountains from Hotaka.
213.2. Surreal metalwork sculpture near to Hotaka.
On the way back I came across a sculptor's workshop. He worked in metal and made mostly insects that were quite large and impressive. When I arrived back at the train station I was a little early for the train so instead I walked a little south and visited a shrine. It was mostly wooden and looked nice as the sun was going down. When I got back to Matsumoto I couldn't find where in the bike park I'd left the bike. Just when I was about to give it up as lost or stolen I discovered it. This is the problem with all the bikes being the same colour. Also I was tired and being an idiot. In the evening I had a couple of beers with Mike and Frances, the Israeli girl and a young guy from Sweden.
212.3. On the walk back to Hotaka from the hills.