Day 197: Kobe to Osaka
I had originally intended to stay two nights in Kobe but the hostel was full tonight so I instead decided to move on to Osaka. I left my bag in the hostel however so that I could spend the day in Kobe. I took a walk around town and although there wasn't really much to see, it was quite nice just to wander about. Along the walk I came across a shrine; my first Shinto jinja in Japan.
197.1. Different architectural styles in central Kobe and a fearsome guardian of the tea sets.
197.2. Torii gates at the shrine in Kobe.
It was a bit cold in Kansai and I wanted to buy a hat as I'd lost mine. I found a nice one but it was a bit expensive at ¥2,800 (about £20) so I decided not to bother. I came back and walked around Uozaki before coming back to the hostel and collecting my bag. Uozaki was on the line from Kobe to Osaka so I could get a direct train which was very convenient. When I arrived I walked up to the metro station near to the hostel. The directions I had didn't give any further guidance after the metro station and simply said to phone as it was quite difficult to find. This was a problem though as I didn't have a phone or their number. After wandering around looking lost for a bit some people pointed me in the right direction and luckily it was just around the corner. In the evening I went for a wander around Kita (north) district. There was a lot of neon and many young people were out because it was Saturday night. I went to a little noodle counter in one of the malls and had a noodle soup for dinner before heading back to the hostel.
197.3. Lights of Kita Osaka.
Day 198: Osaka
This morning I went to the train station to turn in the exchange order I'd bought in Hong Kong for the Japanese rail pass. I set it to begin on the 1st April, which is four days from now. The Kansai cities are all very close and transport between them is quite cheap. After visiting the train station I took the metro to the castle, Osaka-Jo. The castle is nice; apparently it is the most visited sight in Japan, principally because there is little else to see in Osaka. It was free to wander around the castle grounds but you had to pay to go inside so I just stayed outside. There were lots of entertainers about who were drawing a fair crowd.
Afterwards I walked through Minami (south) shopping district and stumbled upon a small shrine. Here people were conducting a little ritual of watering a mossy statue. I then walked through Den-Den town, which Osaka's version of Akihabara in Tokyo, selling anime and manga and various cheap computer stuff and electronics. It was getting quite cold and I was beginning to regret not buying the hat in Kobe when I came across an outdoorsy shop. It was very cheap for Japan and I bought a hat for ¥300 and some gloves for ¥400. After that I went to visit a couple of temples before coming back to the hostel.
198.2. Entertainer with a monkey at Osaka-Jo and a small shrine in Minami Osaka.
198.3. Statues of Raijin and Fujin (thunder and wind gods) and Buddha statue at temples in Osaka.
Day 199: Osaka to Kyoto
I got up early this morning and took the train to Kyoto. I stayed at a hostel near to the castle Nijo-Jo called The Cheapest Inn. It was freezing today so I spent most of the morning using the internet at the hostel. In the afternoon I went to the manga museum which was nearby. It was OK but most of the collection was only in Japanese. I read a kind of animated manga on the computer and then read a manga version of Miyazaki's 'Castle in the Sky', which was in the English language section. Unfortunately they only had the first part. In the evening I walked into the centre of town and had fried rice at a restaurant. I walked around the streets around here which were beautiful in the night with little streams and the sakura lit up.
199.1. The moat and fortifications around Nijo-Jo in Kyoto.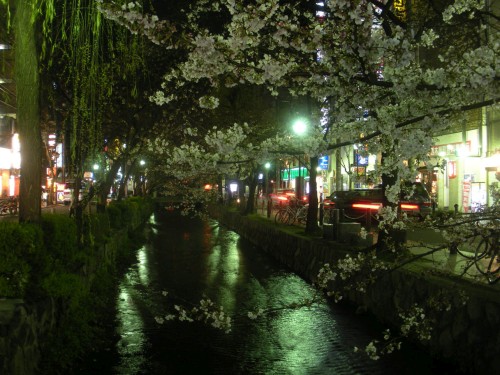 199.2. The streets of Kyoto lit up at night-time.
Day 200: Kyoto
Today I rented a bike from the hostel and cycled south to visit a couple of shrines. When I arrived I found that they were currently undergoing refurbishment which was a little disappointing. I then went to the east side of the town and visited the shrines and the temples that were free entry. I found a nice park with many sakura trees in bloom and stopped there for lunch. In the afternoon I cycled north up Shirakawa Dori and saw a few more temples. The streets around here were very picturesque.
I then rode back to the hostel to drop of the bike before walking up to the north east of town to Kinkaku-ji, where I was to meet with Peter at 17:00. Kinkaku-ji is the temple of the golden pavilion and is one of the most famous temples in Kyoto. The pavilion is set on an island in a lake within a very beautiful garden. I had enough time to visit it before meeting with Peter at the exit and we went together on his bicycle to a train station. He lived quite far away from town so I took a train and he cycled back.
200.1. At the shrines in the south of Kyoto.
200.2. Sakura in the park in Kyoto.
200.3. The Golden Pavilion at Kinkaku-ji.
He met me at the station and we waited there for his friend Erika. Peter was staying at a University hall of residence and most of friends were foreigners studying Japanese. It was Peter's last day before flying back to Melbourne, so we had a little get together. We cooked a pasta bake and drank Japanese plum wine. Most of the conversation was in Japanese. I could understand a few words but not enough to understand the conversation. In the evening we went to a temple for a sakura light up, where the cherry blossoms are illuminated by many lamps and it was very beautiful. Afterwards I walked back to the hostel while the others went back to the halls. At the hostel I had a beer with Brigitta and Peter, the Hungarians who I had met last night. They were in Japan for a couple of weeks of holiday.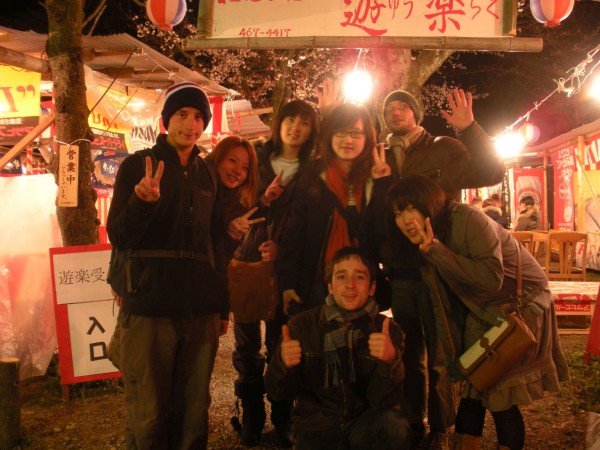 200.4. At the sakura light-up at a shrine in Kyoto.
200.5. Erika and Kayoko (L) and Brigitta and Peter (R).
Day 201: Kyoto
This morning I walked through Gion district, which is famous for the Geishas. I visited Kiyamizu-dera, which is another of the most famous temples in Kyoto. It was very beautiful, especially at this time of year with the sakura in bloom. I watched some of the people conducting a water pouring ceremony before heading back through Gion. This time I did see some Maiko girls (trainee Geisha), though perhaps they were just tourists who had come for a makeover. I walked back to the hostel through the gardens of the Imperial palace, which was huge. In the evening I again met up with Brigitta and Peter and also a Russian called Alexei who was working as a biological researcher in Yokohama and had taken a week or so off to travel with his mother.
201.1. A walk around Gion.
201.2. Kiyamizu dera, the pure water temple. 
201.3. Maiko girls and the gardens of the Imperial Palace.