Day 222: Hakodate to Tokyo
This morning it was raining heavily and didn't stop for the rest of the day. Fortunately I was travelling for most of the day and didn't need to be out in it for too long. I went to the train station at mid morning and got the train back to Honshu. I changed trains at Hachinohe and picked up a bento box for lunch at the station. It was more expensive than the convenience store ones I'd been living off but it was much nicer. I got on the shinkansen from Hachinohe to Tokyo and found that all the carriages were reserved seating. It was very busy as well and I ended up having to change seats three or four times as new passengers got on at each stop which became quite annoying after a while. I arrived in Tokyo at about 17:00 and tried to find a pay phone so that I could call Alex, the Brazilian guy I'd met on the ferry coming over from China, as he'd agreed to let me stay at his place for the duration of my stay in Tokyo. Tokyo station is very big and crowded and it took quite a while to find a payphone. I called him and he told me to meet him at Kichijoji station which is about 30 minutes west of Tokyo on the Chuo line. He met me at the station and even brought an umbrella for me. Kichijoji is a very nice place with a large park and is much less crowded than a lot of the rest of Tokyo. We went to Alex's apartment which was a short walk from the station and I dropped off my bag before we went out for dinner. We had some fish in a small place in Kichijoji and then went for a beer at an izukaya – a small Japanese bar, before heading back to Alex's apartment. It is quite small but it is a nice place and comfortable and has a really good location that is walking distance to the station.
Day 223: Tokyo
Alex was up early to go to University but since he keeps his apartment unlocked, I was free to come and go as I pleased. It is amazing that in a city of this size it is safe enough to do this. My rail pass had just ended yesterday so I was back to paying to get about. In the morning I went to Tokyo station and walked to the Imperial Palace nearby. Tokyo has a lot of parks and open spaces, which surprised me considering the number of people here.
223.1. The moat around the Imperial Palace in central Tokyo.
223.2. The Imperial Palace gardens.
After lunch I went to Yasukuni Shrine where Japan's war dead are honoured. The shrine is rather controversial as some war criminals are enshrined here and Japanese politicians often cause offence to the Chinese and Koreans by visiting here. I visited the shrine but didn't see the museum. There was some performance on a stage with women in kimono's dancing with fans. The audience was quite elderly and most of them appeared to be asleep.
223.3. Yasukuni Shrine and the on-stage performance.
Later in the afternoon I got the metro to Asakusa and visited a large temple and also a shrine. I then walked to Ueno which is nearby and has some more parks. Alex was out with a friend from the Brazilian embassy so I just stayed in and watched some videos on the internet as I was tired from all the sightseeing.
223.4. On the streets of Asakusa.
223.5. At a temple in Asakusa.
223.6. A torii gate tunnel in a park in Ueno.
Day 224: Tokyo
Today I went to the Ghibli Museum, which is conveniently located about 10 minutes walk away from Alex's apartment. The museum was interesting but it was smaller than I expected it to be and it didn't take long to see it. The building itself is very nicely designed and reminded me a bit of Hundertwasser's House in Vienna. There was a good exhibition on animation and a reconstruction of Miyazaki's office, complete with overflowing ashtrays, which had a lot of still pictures from the movies on the walls and books of photographs that were used for inspiration. There was also a cinema that shows 20 minute short movies that are only shown there. The one I saw was based on Totoro and was enjoyably surreal if a little child-like. On the roof of the house is a giant robot statue from the Laputa movie.
224.1. The Studio Ghibli Museum.
Afterwards I went to have lunch in the park and then in the afternoon I went to Akihabara, the electronic town. This district is full of shops selling anime, manga, games, electronics and computer equipment. I spent a few hours looking around but didn't buy anything.
At around 18:00 I called Alex and we arranged to meet in Shinjuku. Shinjuku is one of the main business districts so there are many huge skyscrapers and the streets are lively and filled with neon. Behind the brightly lit main streets are quieter alleys lined with traditional izukaya bars and yakitori joints. Before leaving Shinjuku I picked up a copy of Plaid's Tekkonkinkreet soundtrack for my friend Tim back home. I needed Alex's help to find the CD as it was in katakana. We then headed back to Kichijoji and had a beer at the apartment.
224.3. The bright lights and yakitori joints of Shinjuku.
Day 225: Tokyo
Today I went to Kamakura, a small town on the coast which served as the capital of Japan for a short period in the 12th Century. I took a train and changed in Shibuya and then Yokohama. I visited a couple of temples near to the north station and then walked through the woods towards the huge Buddha statue that is the most recognizable feature of Kamakura. On the way I came across a shrine where people wash their money in the belief that it will make them wealthier. I washed my coins but didn't want to risk damaging my notes.
225.1. At temples and shrines in Kamakura.
The large Buddha statue was impressive and you could even go inside. It was the first time I'd been inside a Buddha. I went for a walk along the beach and then headed north through town. I bought a sushi/shashimi set for lunch that had about 15 pieces for only 600¥, which is very cheap. I visited the main shrine in town and then walked back to the train station.
225.2. The giant Kamakura Buddha.
225.3. The beach at Kamakura.
In the evening I met up with Laurel, a friend from home who has been teaching English in Japan for the last couple of years. We met in Shibuya which was convenient as it was on my way back. Shibuya is another lively and buzzing district that is famous for its nightlife. We went to a bar for a couple of beers and then went to eat at a yakitori joint. We didn't stay out long as Laurel's boyfriend was in hospital so she had to get back. I came back to the apartment and met Alex and we watched a movie before going to bed.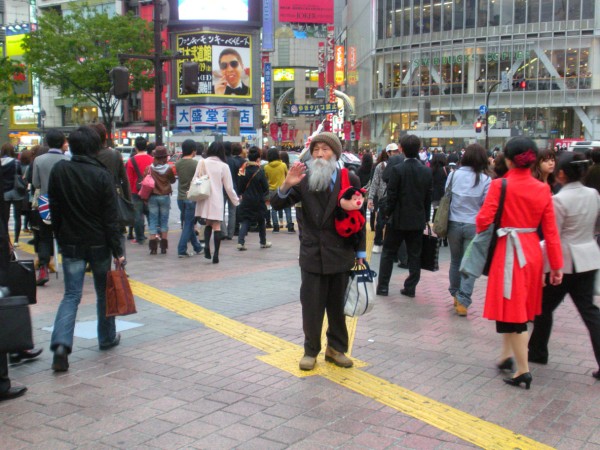 225.4. A crossing near to Shibuya station.
Day 226: Tokyo
Today it rained all day. We had planned to go to a BBQ for a friend of Alex's who was leaving to go travelling but that was cancelled due to the weather. We did venture out at one point to visit some bookshops. Alex wanted to get some textbooks and I was on the lookout for cheap second-hand guidebooks for South Korea, but we didn't find either. In the afternoon we watched the first part of Red Cliff, the Chinese John Woo movie that I saw the second part of when I was in Singapore. I decided to cook a Spaghetti Bolognese so I went out to buy some ingredients and red wine. After dinner we watched the second part of Red Cliff.
226.1. A man and a mouse walk through a department store in Kichijoji.
Day 227: Tokyo to Night Bus
Today was my last day in Tokyo. Alex had to go and meet some friends today so we said our goodbyes and I thanked him for putting me up over the last couple of days. I went to Tokyo station and left my bag in a locker and then went for a walk around Ginza, one of the big Tokyo shopping districts. I walked south as far as Tsukiji, where the world's largest fish market is, but it was late and there wasn't a lot going on. I was still early for my bus though so I wandered aimlessly around Ginza for a couple more hours. I visited the Sony building which has a Playstation 3 in the hallway on which you can wander around a virtual Ginza – there's no point in going outside really!
227.1. Strange goings on in Ginza.
I went to the bus stop at about 20:00 and found that I was the only gaijin on the bus. The conductor called me Daniel-sama – I was very honoured. On the bus we were given blankets, earplugs and eye-covers but I didn't really sleep much on the journey.
227.2. Some buildings around Ginza and central Tokyo.