Day 118: Teluk Nipah to Georgetown (Penang)
This morning I was up at 8:30 and met Natalie for breakfast. We then got a taxi together to Pangkor town where we got the ferry back to Lumut. Natalie got on a bus to KL and I went to Butterworth where I got the ferry to Georgetown on Penang Island. Georgetown was very busy with a lot of traffic and many high rise blocks. I found a guesthouse that was cheap but not very nice and then walked around town and saw the sights. That didn't take very long so I went to a mall and bought some anime DVDs as they are very cheap in Malaysia. In the evening I went for a beer and had some dinner in the night market.
118.1. Some sights of Georgetown; Fort Cornwallis and a church on a roundabout.
Day 119: Georgetown to Lankawi
I didn't think much of Georgetown so I decided to leave today and go straight to Lankawi Island, which is to the north near to the border with Thailand. I was up at 7:00 and went back to the ferry port I'd arrived at yesterday. The ferries from here are only for Butterworth and it took quite a while to find the ferry terminal for Lankawi. When I eventually found it I still had to get a ticket, so I ran to the ticket office and made it to the boat with about 10 minutes to spare.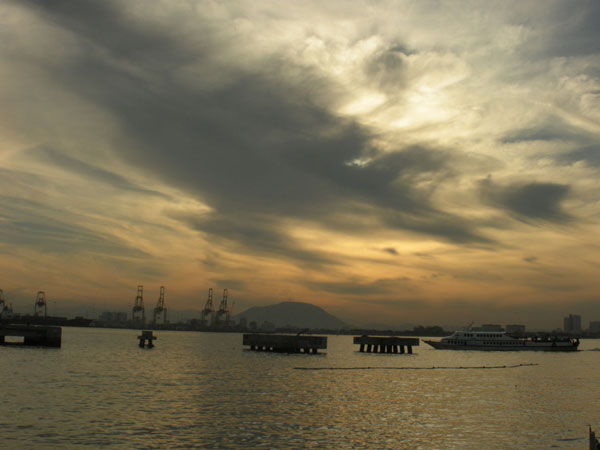 119.1. Georgetown harbour at sunrise.
The ferry arrived in Kuah town on Lankawi Island and when I got through the terminal I got a taxi to Pentai Cenang, one of the main beaches on the island. I got a dorm bed in the Gecko guesthouse for 15 Ringgit a night (about £3). The Gecko is very sociable place with garden and I met many people during my time here. After I checked in I sat in the garden of the guesthouse and chatted with an English girl called Wendy. She has been on Lankawi since Christmas Eve, but she is planning to leave soon. I went for a walk down to the beach and had some lunch before coming back.
119.2. Pentai Cenang Beach on Lankawi Island.
In the afternoon I played some chess with Wendy and Australian guy called Nathan. In the evening we went to the night market to get some food and I met a couple of English girls called Laura and Cara. Cara is from Bath and knows Radstock, my home town, and knows some of my friends from there.
Day 120: Lankawi
Today was very lazy and I spent most of it just hanging around the guesthouse playing games and drinking beer. Beer is much cheaper on Lankawi than in the rest of Malaysia since it is duty free. In the evening I went to a bar with Nathan and an Austrian girl called Katja. I played some pool with a Finnish guy who worked there and Swedish guy called Pascal who I had met earlier at the guesthouse.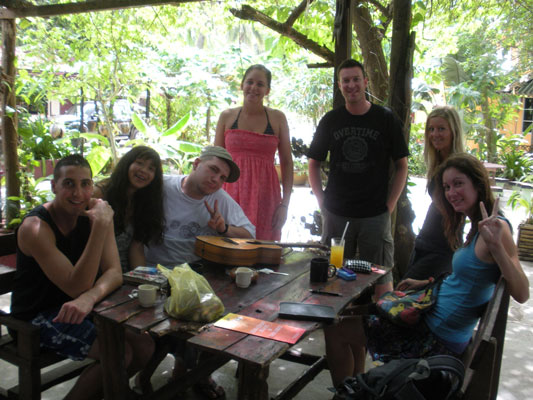 120.1. The Gecko Guesthouse gang.
Day 121: Lankawi
It was another lazy day today and I didn't do much until the afternoon when I went to a bar with Wendy and Pascal and an English guy called Adam. I stayed in the bar for a while with Wendy and we met a bloke from Essex called Colin. We went to the bar next door where met a friend of Colin's called Merv. Afterwards we went to a nightclub at the end of the street but it wasn't very good and the beer was expensive so I decided to head back to the guesthouse where I met with Nathan, Cara and the others.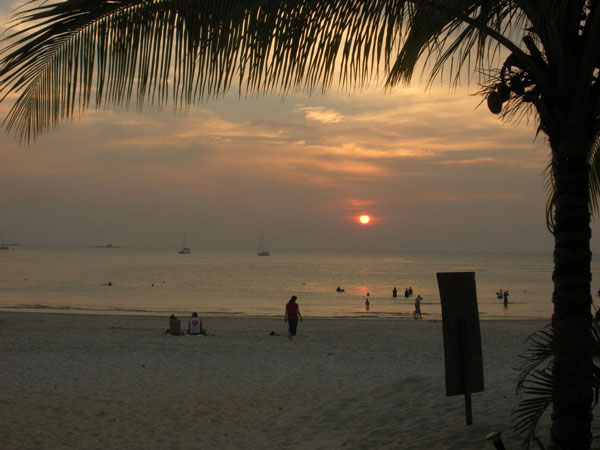 121.1. Sunset on Pentai Cenang Beach.
Day 122: Lankawi
Last night I had decided to stay one more night on Lankawi. In the afternoon I met Wendy who didn't get back until 8:30 this morning. We sat in the garden of the guesthouse and played cards with Pascal and another older Swedish guy. I later went to the internet to book a hostel in Hong Kong as it will be around Chinese New Year when I go there. I went to get some dinner with Wendy and when I came back I met Adam and chatted with him about my time in Nepal. Later I met another English guy called Rob who was studying Math's at Sussex University in the year below me. I went to get some beers and we watched Man U beat Chelsea 3 – 0.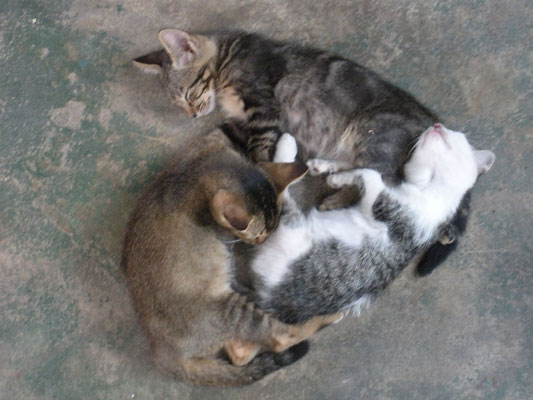 122.1. A triangle of kittens.