1.1.7: Leaving the Annapurnas
Day 28: Chhomrong to Jhinu Danda
This morning Kanchha went off and bought T-shirts for him and me. They both say 'Annapurna base camp, Chhomrong, Nepal' and it's a nice souvenir of the Annapurna sanctuary trek. The girl at the lodge also had the same T-shirt so I got a photo of the three of us.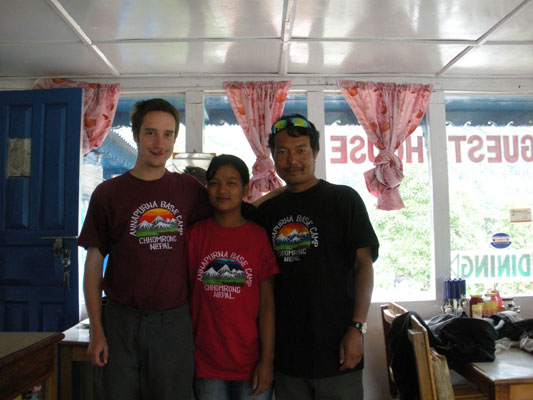 28.1. Annapurna base camp, Chhomrong.
Today we walked to Jhinu Danda, which was a short walk after yesterdays exertions and we were there within 2 hours. The morning had been quite cloudy and it had started to rain heavily just after we arrived. The rain put an end to our plan to visit the hot springs that are about a 15 minutes walk away. Instead Roj and I played games in the lodge dining room. The weather improved at about 16:00 and almost every tourist in the lodge decided to go to the hot springs. We decided to go instead tomorrow morning. In the end it turned out to be a good decision because everyone else came back suffering with leech bites. Roj and I went for a walk instead and ended up buying more T-shirts. This one has 'Thorung La' on the front and a map of the Annapurna region on the back.
28.2. Dasain celebrations in Jhinu Danda.
In the evening there was an American family in the lodge dining room. The children of this family featured in a poster for 'Patan bouldering gym' and they all said grace before their dinner. Kanchha, Roj and I played cards and drank rakshi. After dinner I went to my room and read for a bit but the American family in the adjacent room were complaining loudly about spiders in the room so I went to the kitchen and joined the Nepalese who were having a little party. Kanchha and Roj were singing and others were dancing. I sat with three Belgians whose guide was quite drunk and chatted with them for a bit. I took some pictures and promised to send some copies to the lodge owner, Sabita Brahmin.
Day 29: Jhinu Danda to Landruk
This morning we went down to the hot spring. The weather was clear and there were also no leeches so we definitely made the right decision to come today rather than yesterday. The walk to the spring was steep but short and when we arrived we were the only ones there. The water was a little cooler than at Tatopani and as such it was more enjoyable. The location of the spring was beautiful – right next to the river at the bottom of a forested gorge. Afterwards we went back to the lodge and sat out in the sun. During lunch an Australian guy and his German girlfriend who had been at the lodge at Machhapuchhare base camp arrived. They stopped for a drink and I chatted with them for a bit before going to pack my bag. After lunch I took some more photos with the family before we said goodbye and headed on into the valley. The girls were not keen to let Roj go.
29.1. The family at the Hot Spring Lodge in Jhinu Danda.
The walk to Landruk was a short one again and we arrived in about 2 and half hours. The walk was beautiful though, along rivers and through woods and meadows and there were many waterfalls. We arrived in Landruk and went to the Sherpa guesthouse lodge. In the evening there was another Dasain celebration and Kanchha and I had some more rakshi and buff meat. He then disappeared and I ended up drinking most of the rakshi whilst playing chess with Roj. Later in the evening everyone danced to Nepali pop music on the stereo and I ended up dancing with a very pretty Magar girl called Laximi. Roj took my camera and took pictures of us. Laximi and I chatted for a while in Nepali, which was very basic conversation as my Nepali isn't very good yet.
Day 30: Landruk
This morning we were supposed to go to Dhampus, but Laximi and Kanchha convinced me to stay in Landruk for one more night. Tonight was supposed to be the last night of Dasain so I was easily convinced and also a little hung over from last night. During breakfast Laximi painted a rice tikka on my head and I did the same for her.
30.1. Dasain rice tikkas.
After breakfast Kanchha and I went to visit a nearby Brahmin village and sat outside with a family there. We ate a local cucumber, which is much larger than the English style cucumber.
30.2. Visit to a nearby Brahmin village.
We came back in time for lunch and then went to watch a local volleyball tournament in Landruk. I brought my Nepali phrasebook so that I could talk with Laximi a bit more. Soon it began to rain and with the volleyball finished, Kanchha and I decided to go to the bar.
30.3. At a volleyball tournament in Landruk.
We drank tongba, a Tibetan drink made from fermented millet and mixed with hot water. After that we came back to the Sherpa guesthouse for the final Dasain celebration. We had more rakshi and buff meat and later there was more dancing and again Laximi and I danced together. The weather was very good and Annapurna south and Hiun chuli could be seen in the evening light rising above Landruk.
Day 31: Landruk to Pokhara
I got up this morning, had breakfast and then packed ready to leave. Today we were heading straight for Pokhara and back into civilization. It was a shame that the Annapurna trek was coming to an end. I said goodbye to Laximi and promised to send her some of the photos from the last couple of days. We set off to leave at about 9:00. It was another clear morning and there were great views back towards Annapurna south and Hiun chuli.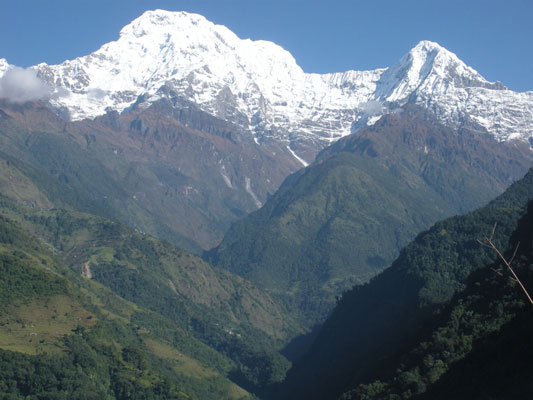 31.1. Annapurna south and Hiun chuli from Landruk.
We stopped for a tea break in the picturesque village of Tolka before climbing the hill to Deurali where we stopped for cold drinks. Typically of Nepal, the day's descent involved a climb to hill at 2000m. The views from the hill were excellent though and we could see into the valley ahead and onwards to Phewa Lake, though Pokhara was behind the hills.
31.2. On the walk from Landruk to Deurali.
31.3. What's in the baskets? – Baby goats!
We stopped for lunch at Pothana and walked to Dhampus before descending down to the road, our first sight of cars and traffic for 26 days, excluding the few jeeps in the Kali Gandaki.  We got a taxi at the roadside into Pokhara and went to our hotel. I ended up in the Buddha hotel tonight but had to change tomorrow to the Millennium guesthouse tomorrow. I took a shower and then went to use the internet. I also tried to back up my photos but only managed to get halfway through. We had planned to go to a Chinese restaurant for Roj's last night before he goes back to Kathmandu but it was getting late so we had to settle for a Nepali restaurant. We had beer and fried rice and listened to a band play Nepali pop music. It was quite loud so it was difficult to hear each other speak but after dinner Kanchha went up and sang with the band. It was like a Nepali karaoke. After we left the restaurant I gave Roj some baksheesh and arranged to meet up with him again later in Kathmandu.