Day 11: Pisang (3150 m) to Manang (3540 m)
I woke up this morning to find that Jagadish had departed. Apparently a friend of his had fallen ill in Kathmandu and he had gone on ahead. He plans to be in Thorung Phedi this evening, Kagbeni by tomorrow, Tatopani the day after and then Beni the day after that for the night bus to Kathmandu. (At the time I had forgotten about the jeeps down the Kali Gandaki, but even so it's some impressively fast walking). So now it is just the three of us. Last night it had rained quite a lot but this morning it was dry though still cloudy. The morning's walk climbed gradually up through the forest, eventually coming out at a viewpoint at about 3450 m. The views back towards upper Pisang and on towards Humde were very nice. We descended again to the valley floor and made our way eventually to Humde, where we stopped for tea break.
11.1. Coming into Humde village, with a yak head outside the teahouse.
By this time the cloud had come in again and after tea it had started to rain. So much for the rain shadow! I was becoming a bit irritable because of the poor weather and tired due to walking at this altitude. I was also a bit anxious about the Thorung La crossing since it will probably be heavily snowed with all this rain. Kanchha suggested that I buy some gaiters in Manang. We stopped for lunch in Braga where it was still raining. After lunch we made the short but muddy climb up to the main Braga settlement and went to Braga gompa. Unfortunately it was locked up and there was no one around to open it for us.
11.2. Braga gompa, which sadly we didn't get to enter.
Manang was only 30 minutes or so away and we soon came to our lodge, The Thorung La. Initially I was put in a room with 3 beds but later changed to a smaller room which had attached bathroom. I was pleased about this because otherwise the closest toilet was two floors below and outside, a trip I did not want to be making in the cold middle of the night. I rested for an hour or so until at 16:00 we took a walk over to the lake beneath the Gangapurna glacier.
11.3. The clouds disperse as we climb the hill above Manang.
The weather had improved a bit by this time but Gangapurna itself was still covered in cloud. We climbed up a hill behind the lake to a height of about 3900 m. The views across to Manang and down the Manang valley were excellent. At the top of the hill we were rewarded with an amazing view of Annapurna II, which made up for the lack of views all morning. By the time we got back I was exhausted and rested until dinner time.
11.4. Amazing views of Annapurna II from the hill above the Manang, not that some people care.
Day 12: Manang (3540 m)
This morning the weather was much better and I got up at 6:00 to watch the sun rise on the mountains. The peaks of Annapurna III and Gangapurna were still obscured by cloud but the views to Annapurna II and Annapurna IV were clear. In the distance, Tilicho peak could sometimes be seen through the cloud as well as a small path before it leading up a hill through the snow to Tilicho Tal.
12.1. Cloud surrounds the peak of Gangapurna.
At about 7:00 I did my laundry in a bucket of cold water in my bathroom and hung my clothes on the balcony to dry. I then met with Kanchha and Roj and we walked up the cliffs on the north side of the valley. About halfway up, in a small cave lives a 92 year old lama called Lama Teshi. He is known as the hundred rupee lama on account of the Puja ceremony he performs for people crossing the Thorung La. I felt a bit nervous when meeting him before the Puja. He sat cross legged behind a small table and he beckoned me forward. He placed a small amount of oil in his hand then he drank a bit of it and then placed the rest on his forehead and hair. He then took my hand and poured some of the oil into my palm. I repeated what I had seen the old lama do. I then knelt forward and he placed a coloured cotton band around my neck. Then he wished me luck for my crossing of the Thorung La. He then repeated the ceremony for Kanchha and Roj. We had a cup of tea and he chatted in Nepali with Kanchha for a bit. He said that he is now the last of five brothers and two sisters and that his wife had died last year. He has four daughters himself, two of which live in America. I then got Kanchha to take a photo of me and the lama and I bought a necklace from him.
12.2. With Lama Teshi in his cave.
After we left and I took some photos of Kanchha with Annapurna II behind him and he did the same for me. In the afternoon I sat on the balcony of the Thorung La lodge and wrote some postcards which I posted at the Manang post office. Later I took a walk with Kanchha and we went to the Manang culture museum which houses different Tibetan artifacts. He said that if the weather was still good tomorrow then I wouldn't need to buy gaiters.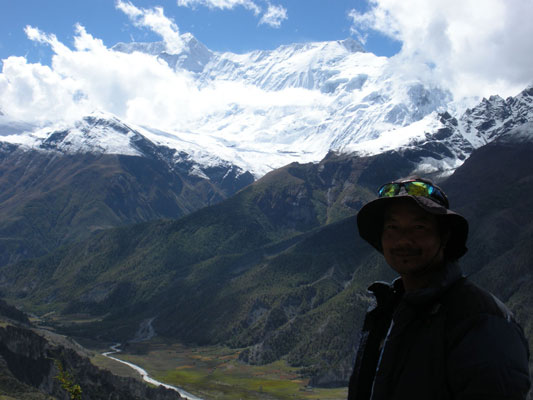 12.3. Kanchha with Annapurna II and Annapurna IV.
Day 13: Manang (3540 m) to Gunsang (3900 m)
Today's trek was very short, taking us abut an hour and a half to get from Manang to Gunsang where we decided to spend the night. We spent the morning sitting in the garden at the Chulu East guest house. While we were relaxing, a tour group consisting of Americans, English, Irish and Australians turned up for their tea break. Most were wearing shorts and t-shirts which seemed crazy to me seeing as, although the sun was shining, the Himalayan wind at this altitude was bitterly cold. Roj and I were still cold with fleece jackets and woolly hats!
13.1. Looking back down the Manang valley, and to Annapurna III and Gangapurna.
In the afternoon we climbed a hill behind the lodge. It was a hard climb at this altitude but we reached a height of about 4500 m. The view from here back towards the mountains was incredible. On the way back we saw a group of Himalayan Tahr. When we got back I had a glass of seabuckthorn juice, which is the local fruit drink and is apparently very healthy.
13.2. From the hills above Gunsang.
Day 14: Gunsang (3900 m) to Thorung Phedi (4450 m)
The original intention was to spend the night in Letdar before moving on to Thorung Phedi, but in the end, since I'd had no real problems with the altitude so far that we decided that we should press on to Thorung Phedi. The temptation of beer and nice lodges in the Kali Gandaki proved too much. We stopped for tea break in Yak Kharka. Before we reached Letdar we passed a huge herd of yak. It was quite unnerving passing them on the narrow trail. At Letdar we stopped for lunch and we all had noodle soup since there was no Dal Bhat. I think Kanchha was pleased to move on to Thorung Phedi rather than stay here.
14.1. Snowy peaks on the walk to Gunsang.
14.2. Yaks and mules along the path to Thorung Phedi.
Thorung Phedi consists of two lodges at the end of a narrow gorge. Before we arrived we stopped for tea at a small teahouse. During the tea break a mule train arrived which had earlier made the journey the over the Thorung La from Muktinath. When we arrived at Thorung Phedi we got a room at The New Phedi lodge. We rested for an hour or so and then decided to make the climb up to high camp above Thorung Phedi at 4800 m to aid acclimatization. The climb was tough going and I was feeling a bit lightheaded at this altitude and had to stop many times. The high camp is just around the corner of a large rock at the top of the hill. When we arrived it was very different to Thorung Phedi in that everything was covered with snow and surrounded by rocks. It was a bleak looking place indeed and many of the tourists here were suffering with headaches. We stopped for tea and then went back down. We played cards for a bit before I went to bed. It was very cold here and I had to get up three times in the night to use the toilet.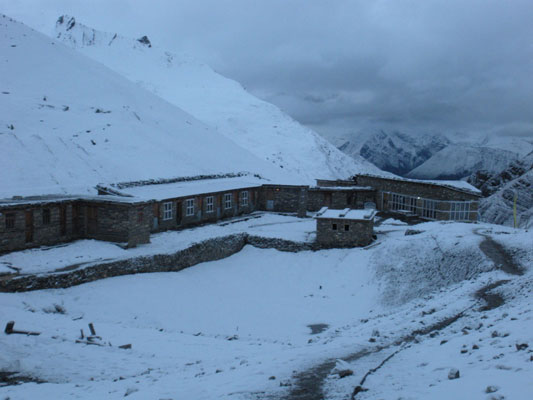 Day 15: Thorung Phedi (4450 m) to Thorung La (5416 m) to Muktinath (3800 m)
I was awoken by the now familiar call of 'sooba bihani' (good morning), only this time it was at 3:30. Today is the big day. We will cross the high pass Thorung La at 5416 m and make our way down to Muktinath in Mustang district. I was a little concerned after the difficulty in getting up to high camp yesterday. I packed quickly and joined the others for breakfast. I had noodle soup and garlic soup, which was quite a lot for that time in the morning. We set off along the winding path up to high camp at about 4:30 guided by my headlamp and the torch on Roj's mobile phone. Thankfully the climb felt much easier than it had done yesterday. We again stopped for tea at high camp and after tea the sun beginning to rise and we made our way into a snow filled valley. Along the path we saw the paw prints of a snow leopard in the snow.
15.1. The walk up to Thorung La.
We crossed another valley and climbed up to a small teahouse at about 5100 m. After tea it became apparent that Roj was suffering with the altitude and Kanchha carried my big bag from here. I was generally OK but I got a little bit of a headache at around 5300 m or so. The walk from the teahouse to the pass seemed to take forever and Roj was going ever slower. I was concerned about him and eager to get up and over as soon as possible. When we got to the top Kanchha and I quickly took some photos while Roj went straight down on the other side.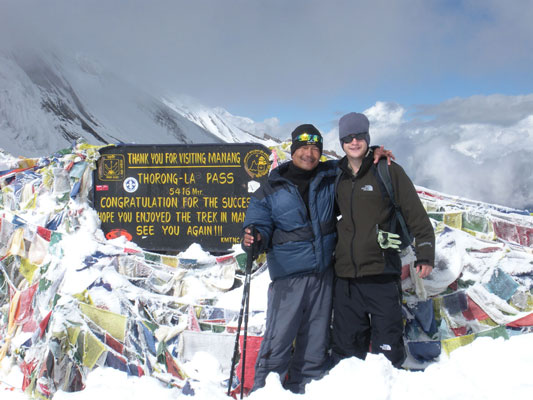 The views down into Mustang were incredible but I had used up most of my energy getting to the top of the pass and tiredness washed over me as we made the descent. The first hour or so of the descent was on snow and it was quite slippery. I was pleased when we made it to the Chengur mother's group tea house and stopped for lunch. Just before the teahouse we met up with Roj who was full of energy and looked in much better condition than I felt at this point.
After the teashop the temples of Muktinath were only about an hour or so away. We stayed at the Royal Mustang hotel, which was nice enough but not nearly as grand as it sounds. Technically Muktinath refers only to the temple complex, whereas the village is actually called Ranipauwa. We rested for a bit and then took a walk around the village and visited the gompa. In the evening we had a celebratory bottle of Marpha apple brandy, my first alcohol apart from one sip of Chang (a rice wine, not the Thai beer) in Ngadi, since Kathmandu. We then looked through all 550 or so photos I'd taken so far in Nepal.
15.3. The view into Mustang and Ranipauwa gompa.