1.1.5: To Poon Hill and Beyond
Day 20: Tatopani (1190 m) to Chitre (2350 m)
Today we began the climb up towards Ghorepani. As it is quite a long walk we decided to split it into two days. The morning was very clear and there was a great view of Nilgiri from my bedroom window. We started the climb and reached the viewpoint at Santosh's teahouse. Along the way we met the German couple I'd met at Thorung high camp and before in the Marsyangdi valley. Kanchha chatted with their guide for a bit.
20.1. The view of Nilgiri from Tatopani in the morning and the view from Santosh's teahouse.
Soon after tea we reached Ghera, a Brahmin village where we had originally intended to stop for lunch. As it was still early I decided to press on to Sikha before stopping for lunch giving us the rest of the afternoon to relax. At Sikha we started to get views to Dhaulagiri and Tukuche peak over the hills. In the end Kanchha suggested we move on to Chitre and I agreed. This would make tomorrow an easy day.
We soon came to Chitre and stayed in the New Dhaulagiri lodge, which was very nice and the view from the bedroom window was incredible. In the early evening we went to a small festival where people were playing football, basketball and volleyball. Volleyball seems to be a particularly popular sport among the Nepalese. At the festival I tried some of the local samosas, breads and sweets.
20.3. Festival at Chitre.
We made our way back to the lodge and I took some photos of the Dhaulagiri range as the sun was setting. In the evening I met an American and Australian who were doing the Jomsom trek with the aim of getting to Muktinath by the end of Dasain. As such they were trying to shave time off their schedule. Tomorrow they wanted to reach Ghasa, which was rather ambitious. Kanchha said that they could probably do it in about 9 hours without breaks.
20.4. Dhaulagiri in the sunset.
Day 21: Chitre (2350 m) to Ghorepani
Today was a very relaxing day with just a two hour hike in the morning up to Ghorepani. We arrived at the lodge, the See You hotel and I sat outside in the sun for a bit and read my book. I had lunch at about 12:00 and after I had eaten I played karam with Roj. The game is similar to pool but with just four pockets at each corner of the table and with counters that you flick instead of balls and cues. It took quite a long time to get to grips with the technique. I eventually managed to win one game but overall I pretty rubbish at it.
21.1. Karam set up ready to play.
Later we were supposed to go for a walk but it started to rain so instead we played ludo on my miniature magnetic game set. Roj won two and I won one. Afterwards I tried to teach Kanchha to play backgammon. I think he learnt quite a lot in the two games we played but it will take a while before we can play properly as it is rather more complex than ludo. At about 17:00 we went for a walk around Ghorepani and went to a local bar for a few glasses of millet rakshi and some curried chicken and mutton. Kanchha and Roj ended up singing Nepali pop songs and the atmosphere in the bar was very jolly. When we left I was feeling a little tipsy. We went back to the lodge and I had a chicken curry and a beer. The lodge tonight is very busy compared to most that I'd been in so far. I guess it is because it was now the beginning of October and Ghorepani is one of the first villages on the trail for a number of the Annapurna region treks.
Day 22: Ghorepani to Tadapani
This morning we arose at about 4:00 to make the ascent of Poon Hill. After a quick coffee, Kanchha, Roj and I began the walk in the dark guided by my headlamp. There were many other tourists along this path and at one point I overheard an Australian man call out to his obese wife 'are you alright, love', to which she replied 'no, my mouth is really dry'. Their guide then shouted back 'drink some water', which I found very amusing. It was a steep climb but we soon got to the top. We waited for the sun to come up and I took some photos before we made our way back down.
22.1. Dhaulagiri and the Annapurnas from Poon hill.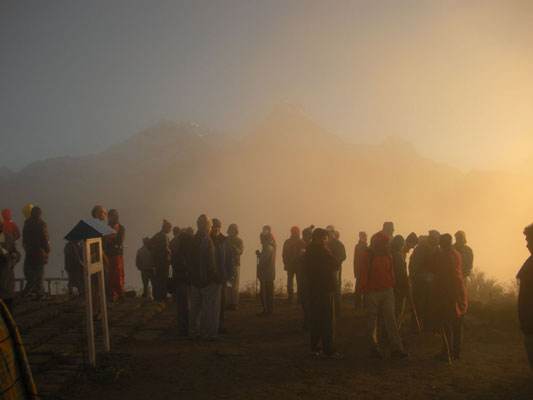 22.2. Many tourists at Poon hill at sunrise.
We went to use the internet but after a few minutes the electricity cut out so we went back to the lodge for breakfast. After breakfast we walked up a hill on the opposite side to Poon Hill. It was damp and thickly wooded and there were many leeches. Near the top of the hill the trees thinned and offered a fantastic Himalayan panorama on the left side of the trail consisting of Annapurna, Annapurna south and Hiun chuli with the Dhaulagiri range further beyond. After stopping for tea in Deurali, we descended through thick rhododendron forest to Banthanti where we stopped for lunch. At the cliffs across from Banthanti we saw a group of Langur monkeys searching for salt in the rocks. After lunch we continued our walk through the thick rhododendron forest, at one point coming to a ridge where the trees had thinned giving spectacular views to the forested hills across the valley as the clouds swept past them.
22.3. Walk through jungle to Tadapani.
We soon came to Tadapani, a fairly desolate looking village on the edge of the forest consisting mainly of lodges and stalls selling Tibetan curios. Kanchha had warned me not to buy anything here as it would be overpriced. I had already bought some things in Kagbeni though and wasn't planning on buying any more. Later on a makeshift band started to play western rock music. It consisted of two Nepali's with guitars and the son of an American family on the drums. There was no vocalist. Kanchha and I had some rakshi and drank the bottle of apple brandy I'd picked up in Tukuche. It was a little celebration for having finished the Annapurna circuit.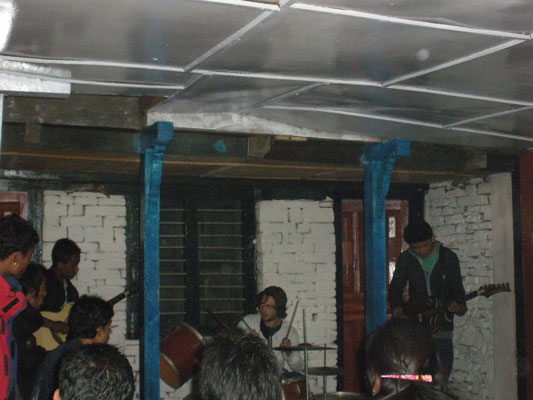 22.4. Band in the lodge at Tadapani.
Day 23: Tadapani to Chhomrong
This morning was very clear and there were some good views of Machhapuchhare – the fish-tail mountain, Annapurna south and Hiun chuli. As we walked through the wood, we saw some Langur monkeys in the trees above. We stopped for tea at a lodge in a clearing with good views to the Kimrong khola valley.
23.1. View down the valley on the walk to Chhomrong.
A short walk brought us to Ghurjung where we stopped for lunch. I had good mixed fried rice which had potatoes, veg and cheese. After lunch the walk was mostly uphill but was quite short and we soon came into Chhomrong. We stopped briefly for a cold drink and I chatted with a young Nepali man about English football, he was a Man U fan. After the drink we came to our lodge, the Kalpana. In the evening we went to a local bar down a steep hill below Chhomrong. We had corn rakshi, a local noodle soup and some dried buff meat. We then went back to the lodge for dinner. Later in the evening we went to another lodge where a mothers group was playing Nepali music. The girls were sat down singing and the boys sat behind playing drums. It was a very enjoyable evening. The only song I recognized was resham phirriri ('you are donkey, I am a monkey') that Kanchha and Roj have also sung previously. It was also mentioned in the book 'Annapurna Circuit' by Andrew Stevenson that I finished reading that evening.
23.2. Mothers group playing outside a lodge in Chhomrong.