Day 48: Pangboche (4000 m) to Namche (3450 m)
This morning we walked through woodlands to Tengboche where we had originally planned to spend the night. Unfortunately, here as well, all rooms were fully booked. Tengboche is a popular acclimatization stop for people on Everest base camp treks. The lodge owners were not very helpful or sympathetic when Kanchha asked about rooms for just one tourist. They were only interested in the money from large groups. In the end we had tea and decided to head back to Namche. After tea we visited Tengboche gompa which is the largest in the Khumbu. The entrance gate was very ornate and colourful. Inside the gompa there was a Buddhist ceremony going on and many monks were present. After visiting the gompa we began the walk to Namche.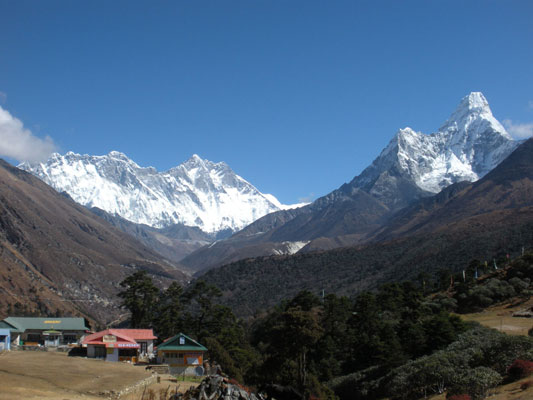 48.2. Classic view of the Everest valley from Tengboche.
We stopped for lunch at Phunki Tenga, a small collection of lodges by the river. After lunch we walked for a couple more hours before we arrived in Namche. In Namche we had similar problems getting a room. We tried about four or five places before we came to the Pumori lodge, which was smaller and quieter than many of the other lodges in Namche. In the evening we went to a Nepali bar and had momos and rakshi. It was the first alcohol we had drunk since we left Kathmandu and it went down very well after all the stress of trying to find a room. In the evening we went back to the lodge and drank more rakshi and played cards with a teenage boy who we had met previously in Dole.
Day 49: Namche (3450 m) to Thame (3750 m)
As we were in Namche early we decided to spend a day or so exploring the Thame valley. In the morning I went to use the internet to check if there were any further problems with the bank but all was OK. We started walking in the same direction as Bhoj and I had gone during our acclimatization day here previously. The path was surprisingly busy so we sent Bhoj on ahead to book a room in Thame. We didn't want to take any chances after yesterday. During tea break I was surprised when Kanchha was able to call Laximi on his mobile phone. I tried to talk with her but it was very difficult because the reception was bad as well as the language barrier. I was amazed that he could get any reception at all up here. The rest of the walk took us down towards the river and back up on the other side. We then saw Thame and its gompa perched on the cliffside. It looked quite spectacular. On the other side of the valley was a huge wall of icy peaks leading down the valley towards Rolwaling.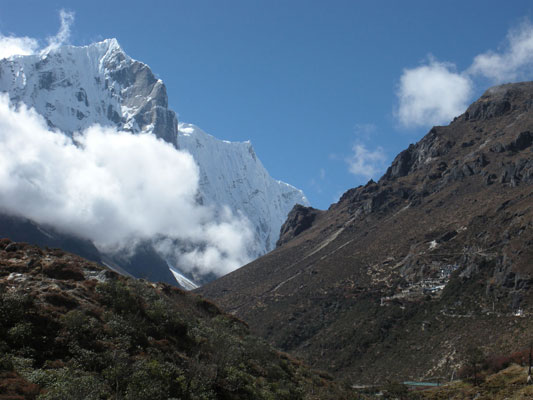 49.1. Approaching Thame on the path from Namche.
When we arrived in lower Thame we met Bhoj and he had secured a room at the Sunshine lodge, which was inappropriately named as heavy cloud descended in the afternoon. Bhoj and I took a walk up to the gompa and from the outside was the most impressive looking that I'd seen in the Khumbu with sheer cliffs behind it. The inside however, was much the same as any of the others. We went back to the lodge and in the evening I had a dinner of Sherpa stew and momos.
Day 50: Thame (3750 m) to Namche (3450 m)
This morning Kanchha was worried about a problem with the plane tickets back to Kathmandu and wanted to push on to Phakding so that we could be in Lukla early tomorrow morning. Luckily he was able to solve the problem using his mobile phone. I am still amazed it works up here. The problem was due to another booking under the same name. This seems to occur a lot in Nepal as many people share the same few second names. In the end we walked back to Namche and stayed there as we had originally planned. The day was cloudy and there were no good mountain views.
50.1. On the walk back to Namche from Thame.
When we got to Namche we stayed at the Pumori guesthouse again. I walked around town and met Bhoj in the Tibetan market who was buying some new shoes. I met Kanchha later on and we went to the Nepali bar again and drank rakshi with buff meat and momos. In the evening Laximi again called to Kanchha's phone and I talked with her a bit using Kanchha as a translator.
50.2. The Tibetan market in Namche (left) and Namche Bazaar (right).
Day 51: Namche (3450 m) to Lukla (2850 m)
Today was my last day of trekking in Nepal. We set off for Lukla in clear weather. At the gate of Sagarmatha national park we met with Chet who was on a trek with 17 Kazakhstanis. He was with some other guides and porters that Kanchha knew. We stopped for lunch in Phakding at the lodge we had stayed in on the way up. There we met Jagat who had earlier flown into Lukla and was on his way up to Namche to meet Chet and the Kazakhstanis.
51.1. With Kanchha and Chet at the gates to Sagarmatha National Park.
The lodge we stayed in when we arrived in Lukla was very busy. There was a huge German tour group that was celebrating finishing their trek. I said farewell to Bhoj and gave him some baksheesh as well as my trekking poles and a pair of gloves. In the evening Kanchha and I went to a small Tamang bar and had Tongba, the Tibetan fermented millet drink I'd had before in Landruk. It was the last day of Deepawali, the Hindu festival of lights where Laximi, the goddess of wealth is worshipped. We went back to the lodge fairly early as we had an early start tomorrow.
51.2. Last views of the Khumbu region.