4.1.1: Macau and Hong Kong
Day 139: Macau
I slept in quite late this morning after having many late nights recently. I went out to sightsee around town and it was cloudy and a lot colder than I'd been used to in South East Asia. First I went to visit the Largo do Sanado Square in town which was well decorated for the Chinese New Year celebrations. I then went to visit the ruins of St. Paul's church, which is on a hilltop and has an impressive front façade. I then went up to the Monte fort and visited the Macau museum. The Macau museum was rated by the Lonely Planet as 'one of the best in Asia', which seemed over the top to me. It was OK but nothing overly great.
139.1. The Largo do Sanado with New Year's decorations and the ruins of St. Pauls church.
Macau is the Vegas of the east and has many enormous casinos. The biggest and most impressive is the Grande Lisboa casino and I walked towards it after visiting the fort and the museum. I walked through the front foyer which is very ornate and has a lot of impressive sculpture done in coral, ivory and jade. I walked along the seafront and saw the huge Macau tower from which you can do bungee jumping.
139.2. The Grande Lisboa casino from the Monte Fort (left) and the road beneath (right).
I then walked through another square called the Largo do Pagode de Barra, which had a nice temple on it. The temple was thick with the smoke from thousands of joss sticks and firecrackers which seemed to be being let off anywhere and everywhere.
139.3. A busy temple on the Largo do Pagode de Barra with a lot of incense.
In the evening I went and had pizza for dinner and then did the walk I did earlier in reverse to see the casino buildings lit up in the night. I then went back to the Grande Lisboa Casino and visited the gaming rooms. It had many gaming tables and had stages with dancing girls performing. I was able to visit about three floors of gaming but I didn't play any.
139.4. The casinos of Macau illuminated at night.
Day 140: Macau to Hong Kong
This morning I checked out and got a bus down to the ferry port. The ferry trip to Hong Kong went quickly but I slept most of the way and woke up just as we were arriving in Victoria Harbour. I made my way across town to my hostel, The Yes Inn, which is well located on Hong Kong Island but it is quite small and on the fifth floor of a huge building. All the surrounding buildings are similar size though, a huge amount of people are crammed into quite a small space in Hong Kong. In the afternoon I went to Wan Chai to visit the visa office and apply for a Chinese visa. After I'd submitted my passport and application form I went for a beer and then came back to the hostel. In the evening I went for dinner at a night market that was close to the hostel. There was no English on the menu but the woman spoke English so I just asked for something with chicken and rice and got chicken fried rice, fair enough. I tried to decipher some of the menu using the Chinese characters in my guidebook.
Day 141: Hong Kong
Today I went to Kowloon to find the Japanese travel agent NTA so that I could buy an exchange order for a Japanese rail pass since they have to be bought outside the country. When I arrived I found that it had moved so I went to a public library to use the internet and find out its new location. I eventually found it on the six floor of a huge shopping centre. The rail pass was very expensive and they charged a fee to use credit cards so I decided to come back later and pay with cash. I also wanted to be sure that I would save money with it so I wanted to have a better idea of my itinerary before I bought it. I also changed some Singapore dollars and some Macau patacas for Hong Kong dollars and visited the train station to find out about trains to Guangzhou. In the afternoon I went to Central to try and find a second hand bookshop so that I could trade in my Malaysia guidebook but I couldn't find it.
141.1. Late afternoon in Hong Kong Central.
In the evening I went to Wan Chai and had dumplings for dinner and then went to a rock bar which had a live band. While I was there I met a couple from Suffolk called Luke and Kelly who were traveling to Australia. After a while we decided to leave and we went to a bar called Carnegies, which sold bottles of Sol for 10 $HK (about £1) which was much cheaper than anywhere else I'd been.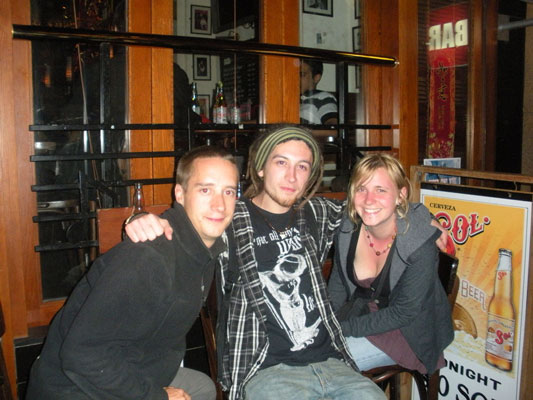 141.2. With Luke and Kelly in Wan Chai.
Day 142: Hong Kong
This morning I did some research on the internet to try and find second hand bookshops in the area. I found a couple in Central so I got the metro out there. The first I tried didn't have many guidebooks but the second one, which is in Soho and called FLOW, was very good and I bought a Rough Guide for Japan and a Mandarin phrasebook whilst trading in my Lonely Planet for Malaysia. I then went for breakfast and took the metro to Kowloon. There always seems to be Edith Piaf being piped in all the metro stations in Hong Kong which is a bit strange. I went to the NTA office to get a rail pass but it was closed as it was a weekend so instead I went sightseeing around Kowloon and visited the park and went down to the harbourfront.
142.1. The elevators of the NTA offices looks like something from 2001.

I walked along the 'Avenue of Stars', which is a bit like the Hollywood one with stars and handprints of famous actors and directors from Hong Kong. The only ones I recognized were Bruce Lee, Jackie Chan, Tony Leung, Maggie Chow and Wong Kar Wai. At the far end there was a big statue of Bruce Lee overlooking the harbour. I then went back to Central and had dinner in a Japanese spaghetti house before getting the peak tram up to Victoria peak. The queue for the tram was huge but it was worth it for the experience. The angle that the tram goes up at is incredible.
135.2. Night out at Clarke Quay.
I walked around at Victoria Peak and tried to go higher to get the best views but it wasn't until I started heading back down that I came across the best of the free viewpoints. The Hong Kong skyline at night was really something worth seeing. I took some pictures and then walked back down to Central.
142.3. Tram ride up to Victoria Peak.
142.4. View over Hong Kong from Victoria peak at night.
142.5. Central skyscrapers at night.
I came back to the hostel and saw on the internet that Joey had uploaded a video of my time in Singapore onto Facebook. It was very good but strange to see so much of me in one video. I also bought my plane ticket home. I will fly out from Seoul on May 7th with British Airways.
Day 143: Hong Kong
Today I went to visit Lantau Island to do some hiking. It is the largest of the Hong Kong islands and is located to the west of Hong Kong Island. It is home to the airport as well as the Hong Kong Disneyland and can be accessed from Hong Kong Island by metro. Once I'd escaped the shopping malls and high rises of the main town the place became much nicer. I walked through a small fishing village and then hiked up into the hills beyond. The scenery was reminiscent of Scotland.
143.1. Hiking on Lantau Island.
I continued uphill and reached a Buddhist monastery where many people were burning incense. On the other side of the path was a huge Buddha statue at the top of a hill. After exploring the monastery and the Buddha statue I walked back down and got the metro back to Wan Chai. I went to a bar and watched Rafael Nadal beat Roger Federer in the final of the Australian Open. Afterwards I went back and had dinner in the night market near my hostel.
143.2. At the temple on top of the hill on Lantau.
143.3. Buddhist statues on a hill near to the temple.
Day 144: Hong Kong
Today I went to Kowloon to buy the Japanese rail pass. I tried to withdraw money with my credit card but for some reason it didn't work. In the end I went to the NTA travel agent to pay with the credit card but it still didn't work. I then went to an internet café and set up a Skype account so that I could call the credit card company in England. They said that I'd entered the wrong PIN number so they decided to freeze my card since my recent transactions were unusual. I went to try and use the card and it still didn't work so I went back, called them again and this time it worked. I went to the NTA travel agent with my 5,000 $HK and arrived about 30 minutes before it closed. After all that I decided to go to Wan Chai and get a beer.
144.1. Wan Chai at night.