2.2.1: The Akha Trail part 1
Day 80: Chiang Mai to Huay Xai
I was up early this morning to begin the journey to Laos. I was initially planning to get a bus to Chiang Rai and then change but when I arrived there was a direct bus to Chiang Khong which I could take. At the bus station I chatted with a Belgian guy called David who was also heading for Laos. He had also come to Thailand from Kathmandu and had spent a month in Nepal. He had done the Annapurna circuit and had the band from Lama Teshi tied around his wrist. The journey for the first hour or so was very picturesque, the winding road going through forested hills. When the bus stopped, David and I chatted about our plans. I said that I was going to go to Luang Namtha to trek in the Nam Ha national park. When we stopped next David showed me a village in the guidebook called Vieng Phoukha, which is just south of Luang Namtha and offers more remote and less touristy treks. When we arrived in Chiang Khong, David and I shared a tuk-tuk to the pier with a Portuguese guy called Pedro who was eventually headed for Vietnam. He had also spent some time in Nepal and had been to Jiri. The departure from Thailand was straightforward and we got a boat across the Mekong to Huay Xai.
80.1. The gateway to Indochina and the crossing of the Mekong.
At immigration on the other side I had to pay 36 US dollars for the visa. I went to the Sabaydee guesthouse and David and Pedro went to the BAP guesthouse near to the pier. We took a walk around town and then went to a restaurant and had the Lao style tabletop barbeque and our first beerlaos, which were very good and better than the Thai beers. A bucket of hot coals was placed into a hole in the table and a steel tray was placed over the coals. The meat was placed on the top of the tray and vegetables were put into water around the edge of the tray to make a kind of soup.
80.2. With David and Pedro enjoying the Lao barbeque in Huay Xai.
After dinner I went with Pedro and David to the BAP guesthouse and we booked a minibus to Vieng Phoukha for tomorrow. I was also able to change some Thai baht to Lao kip. Later David and I went for a beer while Pedro used the internet. David and I showed each other some pictures from the Annapurna circuit trek. He was surprised at how snowy it was when I crossed the Thorung La. At night it got very cold and I wore my fleece jacket for the first time since I left Nepal.
Day 81: Huay Xai to Vieng Phoukha
I met David and Pedro at the BAP guesthouse and we had some breakfast before getting the bus. On the bus I chatted with a French Canadian couple who were going to Myanmar. It seems that it is easier to go there than I'd initially thought. The bus went through some beautiful scenery and the trip was very enjoyable and I was almost sorry when we arrived at Vieng Phoukha. We got off the bus and before we had gotten our bearings we were approached by a local man. When we said we were looking for a guesthouse he suggested his which was located down the road 'beyond the big tree'. We walked down the road and we were approached by a tall westerner (David thought that we were the only falang in town). He said that his name was Timm, from Germany, and that he helped run the local trekking agency. We said that we would meet with him later after we had arranged accommodation. We went to the guesthouse which consisted of several bamboo bungalows and got a room. It was located a short distance off the road in a nice clearing with a river flowing beside it.
81.1. Vieng Phoukha high street (left) and our bungalow at Bor Koung Guesthouse (right).
We met Timm and went to discuss the trek over a lunch of noodle soup. We then went back to Timm's office and met Somhak, the head guide, who showed us more about the different treks. We decided on the three day Akha trail with the option of an additional day to visit some more of the villages. The three day trek cost me 68 US dollars. In the early evening we went for a walk around the village and visited the temple on the top of a hill. David and I played kataw (the football/volleyball game I'd played with Rocky in Thailand) with the novices while Pedro took photos. I helped one of the monks with his English. We went for dinner in the restaurant we went to earlier with Timm and in the evening David and I sat out and had a beer but it eventually became too cold so we went to bed.
81.2. A house and a temple in Vieng Phoukha.
81.3. Pedro and a mao Lao.
81.4. At the temple in Vieng Phoukha.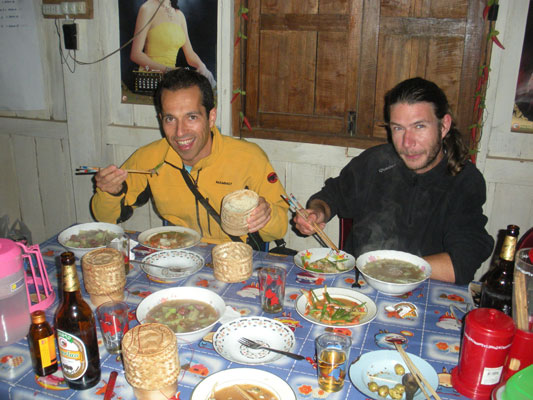 81.5. Dinner in Vieng Phoukha.
Day 82: Vieng Phoukha to Nam Thalang village
I was up at 7:30 and packed my small bag ready for the trek. I strapped my sleeping bag to the outside it since it had been so cold at night recently. When I came out David was up and about but Pedro was still asleep. David and I went on ahead to drop our big bags at Timm's office and then we went for breakfast. We sat down and were brought coffee, tea, eggs and sweet Chinese bread without actually ordering anything. Pedro joined us a bit later and then we went back to Timm's office and met our guides. We had two guides for the trek; the first is Mr. Maankam and the second is Mr. Chanhkeo. We got ready to leave and got onto a truck with some tiny wooden seats on the back. When it was moving it was very cold on the back of the truck. We drove down the road for a bit and then stopped at a village. We walked around the village for a bit and many children began following us. Pedro took many photos and the children were delighted to see the pictures that he'd taken. We started our walk through forested hills and soon came on a river. David walked straight through it and I walked through it after taking off my shoes and socks as my shoes are not waterproof. Pedro was carried across by our guides. We walked through some fields and saw people harvesting rice. Pedro had a go out beating the grasses to get the rice grains out.
82.1. Pedro makes friends with the kids and works the rice fields.
82.2. How to get across the river?
We stopped for lunch at a clearing on top of a hill. The lunch was great and we had sticky rice with buff meat and long beans, omelette, fried banana, peanuts and chilli sauce. Over lunch I got Maankam to teach me some Lao language, which I practiced on the rest of the walk like I'd done in Nepal. In the afternoon we walked through denser jungle and stopped at one point to gather bamboo for the evening meal. We also saw how the bamboo captures rain water which the locals use to drink. Maankam also showed us many plants and trees that are used in local medicine.
82.3. Jungle feasts and gathering bamboo for dinner.
We arrived in the afternoon at Nam Thalang, a picturesque Akha village. The guides and we shared a large bamboo hut at one end of the village. Maankam told us that married Akha men and women do not sleep together and when they have sex they use a hole in the wall between the beds. We visited the headman of the village and had a few lao-laos, the local rice whiskey. David, Maankam and I went to the river to wash. We jumped from bamboo rafts into the river, which was a few metres deep at this point, swam back and used soap before jumping back in to wash the soap off. It was bloody cold in the river. We had dinner outside the hut and had similar to lunch but with the addition of bamboo soup from the bamboo we had gathered earlier. After dinner we were given an Akha massage by some of the girls from the village. For me it was OK but David described it as torture.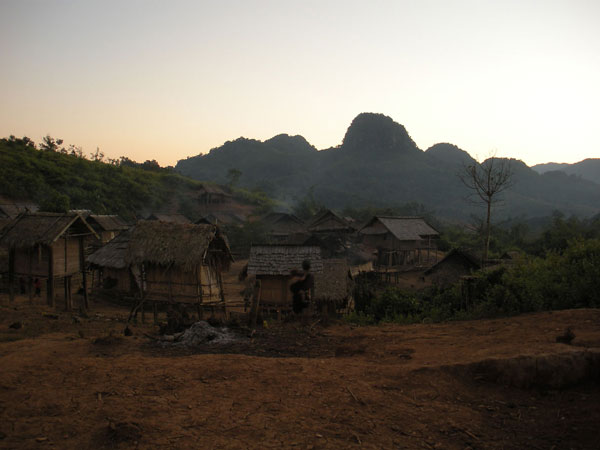 82.4. Nam Thalang village.
82.5. Drinking lao-lao and the Akha massage.