Day 106: Luang Prabang to Pakbeng
Today I was finally successful in getting up at 6:00 to see the precession of monks gathering alms. I walked down the end of my street and saw some of the monks walking past. It was quite eerie watching them shuffling along in silence in the grey morning light. I then went down to the Phusi hotel where David had gone previously. Here there were many more monks and many tourists as well. By the time the sun had come up it was about 7:00 so I came back to the guesthouse and checked out before heading down to the boat landing to get a ticket for Pakbeng. I got on board and put my bag in the store and had my breakfast which was last night's leftover sticky rice.
106.1. Monks gathering alms in Luang Prabang.
The boat eventually departed at 9:00 and soon after it began to rain and didn't stop for the rest of the day. It was the first time it had rained since I was in Bangkok and the first time all day since I was in the Annapurna region. It was a long boat ride and I spent most of the time sitting there listening to my mp3 player. I was a bit bored and my books and things were in my big bag which was now buried deep under everyone else's since I was the first on board. The views were nice but not nearly as spectacular as the Nam Ou trip I'd done from Nong Khiaw. The boat finally arrived in Pakbeng at around 18:00 and I went to find a guesthouse. I went to a restaurant across the street from the guesthouse and had some food and some beer.
106.2. Village on the Mekong.
Day 107: Pakbeng to Huay Xai
I was better prepared for today's trip and brought my books and journal as well as my sunglasses and hat. I also bought some food from the boat landing before I left as I'd learnt to my cost yesterday that they didn't sell food on board and didn't stop along the way.
107.1. A cloudy morning at the boat landing in Pakbeng.
The weather was much better than yesterday with some sun and few light clouds. It was another 10 hour boat ride but it was more enjoyable than yesterday. When I arrived in Huay Xai I went to the BAP guesthouse to get a room and then went to the restaurant where I'd had the Lao BBQ with David and Pedro almost one month ago. I didn't have the BBQ this time, just some rice and chicken stir fry.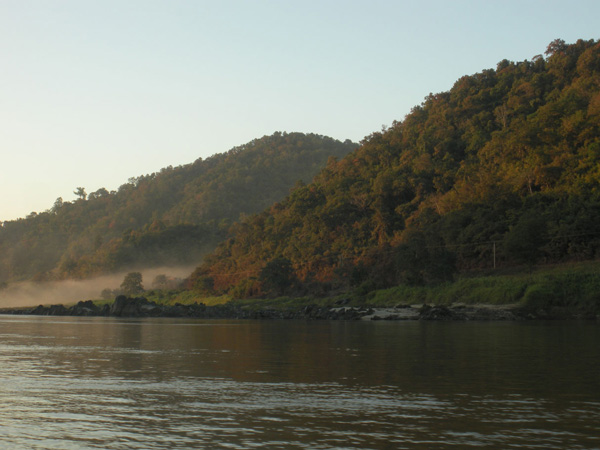 107.2. On the boat near to Huay Xai.
Day 108: Huay Xai to Chiang Mai
This morning I went around to several of the internet cafes so that I could call La before I left Laos but there was a problem with the telecommunications and I couldn't phone her. I went to buy some postcards and a beerlao T-shirt and the girl in the shop was able to sell me a minibus ticket to Chiang Mai which included the boat to Thailand and the tuk-tuk to the minibus stop for 350 Baht. The exit from Laos and the entry to Thailand was very easy. All the other tourists were going in the opposite direction. I arrived in Chiang Khong and went for breakfast. It was a bit of a shame to have left Laos.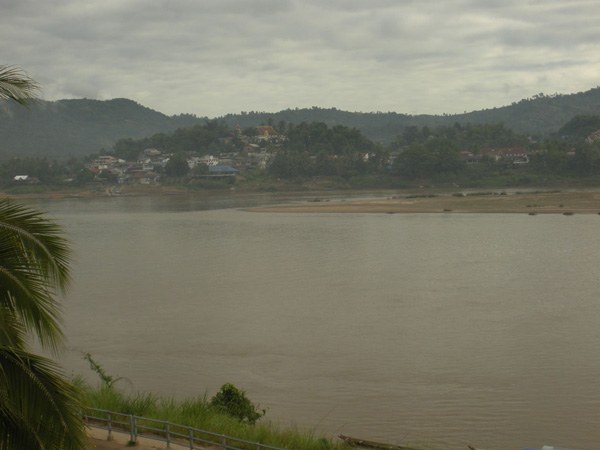 108.1. View back across the Mekong to Laos from Chiang Khong.
Perhaps unsurprisingly, the people on the minibus where all the same people who I'd shared the boat with over the last couple of days. The minibus journey went quickly and the roads in Thailand now seem very good after spending a month in Laos. We arrived in Chiang Mai at about 16:00 and I went to Nocky House to get a room. After I checked in I went to get a guidebook for Malaysia. I tried to find the Rough Guide but could only find an old one so I got Lonely Planet instead. I traded in my Thailand and Laos guidebooks and got more for the Laos one which was surprising as the Thailand one was bigger and in better condition. In the evening I went for a beer and read my new guidebook and planned a rough itinerary for my trip to Malaysia. Later on I went to see the new Nocky house which is around the corner. It is very nice and has a quiet garden and a kitchen and living room. I will move in there tomorrow.
Day 109: Chiang Mai
I didn't do much today, just used the internet and read my book. In the evening I took a wander down to the night market to see if Bow was there, but she wasn't so I came back into town and had a beer before going back to the guesthouse.
Day 110: Chiang Mai
Today was another day of downtime. I sent some postcards and burnt a DVD with some of my photos which I posted home.
Day 111: Chiang Mai
Today is the last day of 2008. Before going out for the evening I had a beer and played a Thai version of draughts with Canadian guy called Mark who is a friend of the family of the girls who run Nocky House. This evening had arranged to meet a friend of Mia's at the North Gate Jazz club where I'd been previously with Ed and Jaime. He is an English guy called Marc who knows Mia through Couch Surfing. Marc is traveling as well but had been in Chiang Mai for a long time. Chiang Mai seems to have this effect on people. The music was quite good and we had a few beers as well as some of the free punch that was on offer. We stayed until about 1:00 to see the New Year in and then I went back as I had a fairly early start tomorrow.