2.1.4: Chiang Mai trekking
Day 74: Chiang Mai to Doi Inthanon
Today I began the trek in Doi Inthanon national park. A sawngthaew came to the guesthouse to meet me at about 9:00 and I met Rocky who was to be the guide. Also on the trek where two French girls, a Korean couple on honeymoon and a guy from New Zealand called Sam. We first stopped to take a short elephant ride through the jungle. When the elephants arrived we were paired up and got onto the seats on the elephant's back. I was paired with Sam. Along the way we bought bags of bananas to feed the elephant. Sam and I fed our elephant three bags of bananas but it was still hungry. We chatted along the way about our occupations. Sam is studying to be a medical doctor and has a couple of months of holiday.
74.1. Riding elephants through the Thai jungle.
After the elephant riding we stopped for lunch and began walking. After an hour or so we stopped at a waterfall and had a shower. It was quite something as the force of the water at the centre was too strong to stand under for more than a couple of seconds. Later on we stopped again and Rocky and I played a game, known as kataw in Lao, which is played with a rattan ball and is kind of a cross between football and volleyball. He was pretty good at it but I found it very difficult.
74.2. A waterfall for a shower.
Soon afterwards we came to the village where we would spend the night. The six of us would share a large bamboo hut which had mats on the floor and individual mosquito nets. We had a green curry for dinner and in the evening the two French girls, Sam and myself sat around the fire with one of the villagers and her daughter. Rocky was feeling a bit sick so he went off to a hospital and said that he would return in the morning.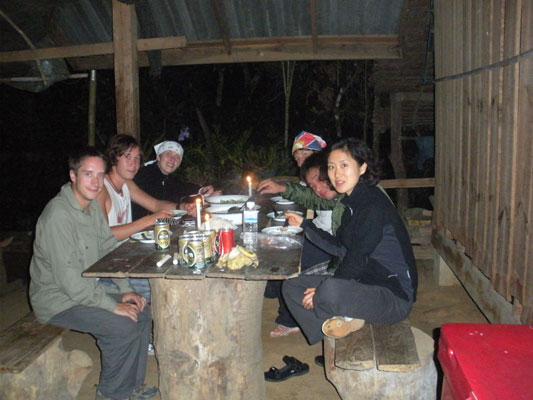 74.3. Dinner at the end of the first day trekking.
Day 75: Doi Inthanon
Rocky was feeling much better this morning and came to wake us up at about 8:00. We had a breakfast of toast, egg and pineapple before saying goodbye to the Koreans, Joe and Isabelle, who were only on a two day trek. Lunch was given to us wrapped in a banana leaf with two short bamboo sticks for chopsticks. It was very natural. We walked for a few hours before stopping at a hut on the edge of a rice field. I took a short walk on my own for a bit before coming back for the surprise lunch, which turned out to be Pad Thai (fried noodles).
75.1. On the morning's walk through Doi Inthanon National Park.
After lunch we continued on for another couple of hours before we arrived at the village where we would spend the night. I couldn't be bothered to attempt to wash in the river and instead read the guidebook for Laos that I'd bought in Kathmandu. A chatted with one of the villagers and he asked me to help gather wood for the fire. We crossed over the river and he grabbed a huge log which needed both of us to carry back. As we crossed back over the handle of the bridge that I was holding came loose and I ended up in the river. So I got my shower anyway in the end. The problem was that my shoes were soaked through. We lit the fire and I put my shoes near it to dry and as the sun went down we had a couple of beers by the fire and I tried the local firewater, Lao Khao, a kind of rice whisky.
75.2. The stream that I fell into (L) and Sam and Rocky at dinner (R).
Day 76: Doi Inthanon to Chiang Mai
We got up and had some breakfast before heading out. After a couple of hours of walking we met with another group from which a French couple would be joining us for the trip back to Chiang Mai. We stopped by a river and another large group arrived. I chatted with a Canadian man who had recently been trekking in the Khumbu region. He and his wife had been trekking independently but hadn't had the same accommodation problems I'd had and they had gone to Kala Pattar. It was later in the year though and even colder than when I was there.
76.1. Waterfall and rice terraces on the last day of trekking.
We then got a truck and stopped for lunch before going bamboo rafting on the river. The rafting was good fun. There was a Thai boatman at the bow of the two boats and Sam and I got the job at the stern while the French sat in the middle. The boats were controlled by pushing long poles off the river bed. It was like punting on the Cam but with rapids. It took a few minutes to get the hang of it but after that I was OK. At one point I pushed from the river bank and the pole got stuck and I slipped on the boat. Luckily I stayed on the boat and had loosened the pole enough that it floated down the river and I was able to grab it. Afterwards we drove back to Chiang Mai and when we arrived I checked into Your House guesthouse. I was in the same room as last time as I'd forgotten to give the key back last time when I left. I went out and bought some new laces as mine were damaged when I fell in the river. In the evening I went out for a pizza and a beer.
Day 77: Chiang Mai
Today I went to the post office to find out the cost of sending a parcel home so that I could lighten my bag a bit. It was quite reasonably priced so I decided to go to the night market tonight and buy some souvenirs to send home as well. I went to a Tibetan place for lunch but they didn't have any momos so I had rice instead. When evening came I went down to the night market and bought some bits and pieces for my family. Along the road I met with a couple of students from Chiang Mai University who wanted to talk with a native English speaker for their work. I agreed to help and we had a conversation, which the girl recorded, about Chiang Mai, Thailand and my trip. I then went to Anusarn market and had some dinner. The restaurant was a long series of kitchens with rows of outdoor tables with a big screen showing football at one end and a stage showing fairly cheesy cultural shows. I got a beer that was being sold seemingly independently of the restaurants by two beautiful Thai girls. After dinner I walked back through the market and bought a Chiang Mai t-shirt.
77.1. English pub and Belgian café near the night market.
Day 78: Chiang Mai
In the morning I went to the bank to withdraw money ahead of my trip to Laos as I'd read that they only have ATMs in Luang Prabang and Vientiane. I got 30,000 Baht and changed some of it to US dollars, which will hopefully it will be enough for the whole trip in Laos. I went back to the post office and sent a parcel back home. It should take 7-10 days but Bangkok's Suvarnabhumi airport is currently occupied by anti-government protestors and nothing is going out or coming in.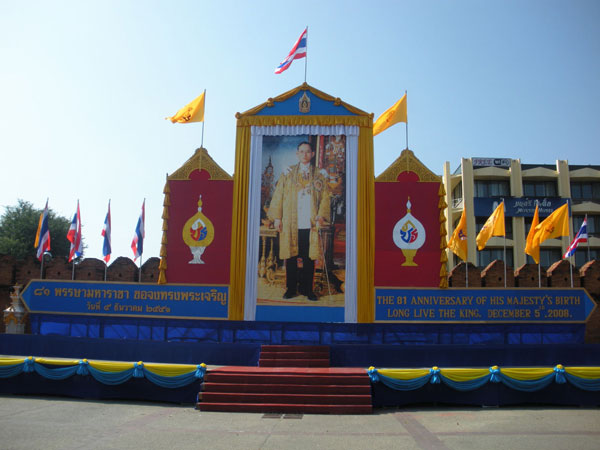 78.1. Preparation for the celebration of the King's birthday on Tha Pae Square.
In the evening I went back to the night market and had dinner in the same place as last night. During dinner I chatted with one of the girls selling beer. Her name is Bow and she is a student at Chiang Mai University and works in the night market most evenings. Later on I went to the courtyard behind Your House guesthouse where they have live bands every night. There were many foreigners there who all seemed really drunk but the Thai people seemed fairly sober, apart from one guy I met who'd drunk a bottle of rum. I had a few beers and played some pool and lost most of the games.
Day 79: Chiang Mai
I was at a bit of a loose end today so I spent most of it using the internet and wandering around town. I found a nice café in the south end of the old town and had a coffee which came with a free pot of tea, which was a pleasant surprise. Later in the afternoon I found an internet café and phoned home. In the evening I decided to go back to the night market and see if Bow was there again tonight. She was and so was her friend Milk who also works there. We exchanged email addresses and I said I would contact her if I came back through Chiang Mai.