Day 70: Sukhotai to Chiang Mai
I got a tuk-tuk to the bus station this morning and then got the bus to Chiang Mai. I arrived at around 14:00 which was earlier than I'd expected. I shared a tuk-tuk with a German couple I met at the bus station and got off at Tha Pae gate, one of the four gates of the city walls and the focal point of the town. I got a nice room for 250 Baht a night at Your House guesthouse and after I checked in I went for a walk around town. On the way back I checked my emails and saw that Ed and Jaime had arrived a day or so ago and were staying at guesthouse around the corner from mine called Nocky House. I headed over there and met Ed. He was feeling a bit sick and so was staying in this evening but we arranged to meet tomorrow.
70.1. Lanterns hung up at Tha Pae square by day and by night.
Day 71: Chiang Mai
I had enjoyed cycling around Sukhotai so I decided to hire a bicycle again today and see some of the many temples in Chiang Mai. I wandered around town but most places I saw rented only motorbikes. Eventually I ended up back at Nocky House and was able to rent a bike from there. While I was there I saw Ed, who was feeling a little better. I first visited the Wat Chiang Man which was close by and is the oldest temple in Chiang Mai.
71.1. Wat Chiang Man, the oldest temple in Chiang Mai.
I then cycled to Wat Chedi Luang, which has an enormous chedi that used to be even bigger until it was damaged by an earthquake in the 16th century. I then went to Wat Phra Singh, the lion temple, which is large and has many buildings within the grounds. There was a garden with many instructive Buddhist teachings such as 'failure teaches man how to succeed', written on wooden panels fixed to the trees.
71.2. The chedi at Wat Chedi Luang (L) and the garden of teachings at Wat Phra Singh (R).
After lunch I cycled along the road leading west out of the city. It was very busy and quite intimidating being just on a bike. I stopped at Wat Suan Dok, which has many beautiful white reliquaries containing the ashes of the Chiang Mai royal family. At the centre were four white chedis surrounding a central golden chedi. The main temple building was large and wooden and inside a monk was giving some kind of lecture to many schoolchildren. I then cycled further along the road past the university to Wat Umong. It was located down some narrow lanes off of the main road and it took a while to find. It was in the middle of a forest and had a lake with many catfish and terrapins. People from nearby come here to relax and to feed the fish. It is a very peaceful spot. Also within the grounds was a large chedi on a hill and some Buddha statues that looked good in the late afternoon light. I came back into town and ended up cycling a long way in the wrong direction as it was very difficult to turn right on the two lane road circuiting the old town.
71.3. Wat Suan Dok (left) and Wat Umong (right).
In the evening I met up with Ed and Jamie and we went for dinner at a vegetarian place called Juicy for You. It was very much a hippy place. After dinner we went for a drink at the North gate jazz bar. Ed was still feeling a bit ill so we left before the band came on.
Day 72: Chiang Mai
This morning I arranged a trekking trip in the nearby Doi Inthanon national park through my guesthouse, which cost me 1,500 Baht for three days. For lunch I went to a restaurant recommended in the guidebook called Ratana's kitchen, which did a very good northern Thai curry. I was initially planning to visit the temple at Doi Sothep in the afternoon but when I found out that the return trip cost 500 Baht I decided to find a cheaper way. In the afternoon I went to the Chiang Mai walking street. This is where the streets are closed off and many market stalls are opened up in the streets.
72.1. Some stalls at the Saturday walking streets in Chiang Mai.
In the evening I met up with Ed and Jaime again. Jaime had spent the day at a Thai cooking course and had had 6 courses while Ed was still a bit sick, so I was surprised when they suggested going to an Italian restaurant. We went together with a Belgian girl called Sofie who was also staying at Nocky House. After dinner I came back to the guesthouse and had a beer and watched the football. I met a Dutch girl who had been in South East Asia for the last 5 months, mostly in Cambodia. She had contracted Dengue fever in southern Laos and had taken over a month to recover from it. Scary stuff!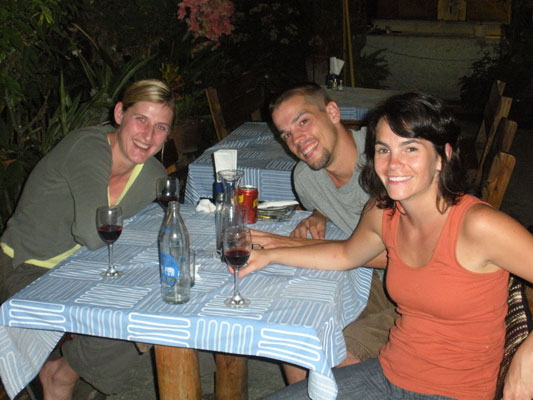 72.2. Sofie, Ed and Jaime at the Italian restaurant.
Day 73: Chiang Mai
In the morning I went to visit a temple to the east of town near to the river called Wat Chai Mongkol. It was OK but no more impressive than any of the others I'd seen. I'd arranged to meet with Ed and Jaime and we went to visit the temple at Doi Sothep and share the cost of the transport. We got one sawngthaew to the zoo and then another up the hill. While we were waiting for the second sawngthaew, two middle aged Thai women wanted to have their photos taken with Jaime and me, which was quite strange.
73.1. On the way to the temple at Doi Sothep.
The temple complex at Doi Sothep was impressive and there was a great view of the city, but it was very crowded with tourists. Once we had looked around we came back to the zoo and Ed and I decided to go in, while Jaime went home to pack. They were going to the nearby Elephant sanctuary tomorrow to do some voluntary work for a week or so.
73.2. The temple complex at Doi Sothep.
The zoo was quite good and had many big cats and we were also able to feed bananas to a giraffe. Bizarrely they will not eat them if they are peeled. We skipped the aquarium because it had an additional charge. We came back to town and visited the Sunday walking street which was in the centre of town. Ed then went back and I went out for some dinner.